House Cleaning Services in Lely Resort, FL
At CleanFlorida, we understand that your home is your sanctuary. That's why we take pride in providing top-quality cleaning services in Lely Resort, FL to keep your home clean, healthy, and comfortable. Our team of experienced and professional cleaners is dedicated to providing exceptional service, paying attention to every detail and ensuring that your home is spotless.
As the leading house cleaning company in Naples, FL, we believe in transparency and open communication with our clients. We offer upfront pricing and detailed estimates, so you know exactly what to expect. Our team is reliable, friendly, and professional, and we strive to make the cleaning process as stress-free as possible. Contact us today to schedule your appointment, and let us take care of the cleaning, so you can focus on the things that matter most.
Conceived in the 1970s by a dutch inventor (after whom it took its name), Lely Resort is a census-designated place in western Collier County. Nowadays, Lely Resort is known for its golf courses, private events, and luxury amenities.
If you need top-quality cleaning services in Naples, FL, you can find them at CleanFlorida! Our services go from top-to-bottom, general house cleaning, and ongoing maintenance, to vacation rental cleaning services. We offer fully customizable cleaning packages that both homeowners and vacation rental owners will enjoy.
Our most POPULAR first time cleaning service, that is our Top-to-Bottom Deluxe Cleaning, some people would call this a Spring Cleaning!
The other type of One-Time Cleaning is our Basic GENERAL CLEANING, and it is about half the price of our Top-to-Bottom Cleaning, but still a great service option!
With bi-weekly, weekly and monthly schedules you'll never feel overwhelmed again about your home's mess.
Vacation rental cleanings, also known as "End of Lease" cleanings, are a specialized service we can offer to our local property managers or vacation homes that are rented out consistently year round.
Spend Time Living in Lely Resort, FL
One of Lely Resort's luxury activities is playing and enjoying club life at Lely Resort Golf And Country Club. This facility offers many amenities for its members, like golf practice areas and expert instructors.
If you're looking for a fun, family-friendly activity, you can stop at the Donna Fiala Eagle Lakes Community Park and spend some time in the aquatic center or at one of their sports fields and courts. Or, if you prefer something less energetic, the B&B Theatres are perfect for you. There you can find many theatrical concepts to experience and other activities to keep even the youngest kids entertained.
For a more educational experience, visit the Holocaust Museum & Cohen Education Center and tour the exhibits. You can also visit the Rookery Bay Environmental Learning Center, where there are plenty of interactive exhibits, an aquarium, and an art gallery.
Lely Resort, FL House Cleaning Done Right
Looking for a reliable house cleaning company in Lely Resort, FL that can deliver exceptional results every time? Our professional cleaning team is here to help! We understand that a clean home is essential for your health and well-being, which is why we use safe and effective cleaning techniques to keep your home spotless and healthy. From regular cleanings to deep cleanings, we've got you covered.
To ensure that we do it right, our house cleaning company uses the latest cleaning equipment and techniques. We pay attention to every detail, ensuring that your home is thoroughly cleaned and disinfected. Our team is trained to be respectful of your space, and we guarantee that you'll be satisfied with our services.
We understand that every home is unique, which is why we tailor our services to meet the specific needs of our clients. Our flexible scheduling and affordable pricing ensure that our services fit within your budget. With our house cleaning company, you can enjoy a clean and healthy living environment without the stress of cleaning yourself. Contact us today to schedule your appointment and experience the difference that our cleaning services can make.
We're always proud to provide quality services! Our expert cleaners follow a thorough checklist that you can personalize, so we cover all the specifics of your home or workplace.
Who better to tell you about our services than our customers? See what they're saying about us.
Don't know what to expect? Check out some of our previous projects and see for yourself!
Sometimes, a little guidance is all it takes to become a cleaning pro. In our blog, you can find all sorts of tips and tricks to leave your house spotless. Read our latest posts!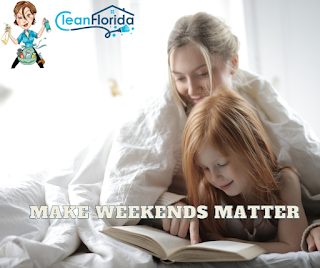 The weekend is here – it's your hard-earned break from the workweek, a time to unwind, recharge, and have some fun! But let's face it, […]
Hey there, fellow pet parents! We LOVE pet's here at CleanFlorida. We are official LOVE BOMBERS of Dogs and Cats and we often times have […]
Is your bedroom causing you as many allergies as the outside? With these six tips, this won't be a problem much longer! Here is how […]
Are You Ready for CleanFlorida in Naples?
Sometimes, a little guidance is all it takes to become a cleaning pro. In our blog, you can find all sorts of tips and tricks to leave your house spotless. Read our latest posts!