House Cleaning Services in Verona Walk, FL
CleanFlorida proudly serves homeowners and business owners in Verona Walk, FL. If you need your home or rental cleaned, our expert cleaning technicians will always follow a thorough checklist and treat your home like theirs. Customize your cleaning packages, and let us provide you with the quality services you deserve!
As the leading house cleaning company in Verona Walk, FL, we strive to give you total satisfaction always. Our experienced team utilizes eco-friendly products and equipment to give you the sparkingly clean and healthy home you love. We have the most experienced cleaners in Verona Walk. Book our cleaning services today in Verona Walk and get back your precious time for other important tasks.
Bordered on the west by Lely Resort, Verona Walk is a census-designated place in the western part of Collier County. With a community of around 2600 people, Verona Walk offers its residents resort-style living and many amenities.
If you need top-quality cleaning services in Naples, FL, you can find them at CleanFlorida! Our services go from top-to-bottom, general house cleaning, and ongoing maintenance, to vacation rental cleaning services. We offer fully customizable cleaning packages that both homeowners and vacation rental owners will enjoy.
Our most POPULAR first time cleaning service, that is our Top-to-Bottom Deluxe Cleaning, some people would call this a Spring Cleaning!
The other type of One-Time Cleaning is our Basic GENERAL CLEANING, and it is about half the price of our Top-to-Bottom Cleaning, but still a great service option!
With bi-weekly, weekly and monthly schedules you'll never feel overwhelmed again about your home's mess.
Vacation rental cleanings, also known as "End of Lease" cleanings, are a specialized service we can offer to our local property managers or vacation homes that are rented out consistently year round.
Spend Time Living in Verona Walk, FL
In Verona Walk, you don't have to leave the neighborhood to find something to do. You can find a swimming pool, fitness facilities, game rooms, restaurants, and many more things among the neighborhood amenities!
Those who love ice cream should visit Sweeties At The Beach. Sweeties offers artisan ice cream, gourmet beverages, sandwiches, and custom pastries for your events.
If you don't mind a short drive, the hiking trail of Sabal Palm Trail is only ten minutes from Verona Walk. But, for those who prefer the beach, a walk in the white sands or a dip into the water is only twenty minutes away at the Naples Pier and Tigertail Beach Park.
Verona Walk, FL House Cleaning Done Right
We are a family-owned and locally-operated company that aims to cover all your cleaning needs so you can keep your free time free. We strive to provide you with the best experience by treating your home or business as our own!
We provide top-notch cleaning services in Verona Walk, FL that suits everyone. You do not need to spend time cleaning your house, our team lets you focus on more important tasks while we take care of all your cleaning needs. We have the best cleaners in Verona Walk, FL that guarantee satisfaction on every clean. Book our services and give your home a brand new healthy and sparkingly clean look today!
We're always proud to provide quality services! Our expert cleaners follow a thorough checklist that you can personalize, so we cover all the specifics of your home or workplace.
Who better to tell you about our services than our customers? See what they're saying about us.
Don't know what to expect? Check out some of our previous projects and see for yourself!
Sometimes, a little guidance is all it takes to become a cleaning pro. In our blog, you can find all sorts of tips and tricks to leave your house spotless. Read our latest posts!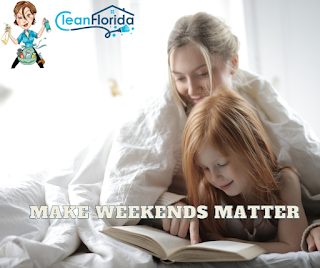 The weekend is here – it's your hard-earned break from the workweek, a time to unwind, recharge, and have some fun! But let's face it, […]
Hey there, fellow pet parents! We LOVE pet's here at CleanFlorida. We are official LOVE BOMBERS of Dogs and Cats and we often times have […]
Is your bedroom causing you as many allergies as the outside? With these six tips, this won't be a problem much longer! Here is how […]
Are You Ready for CleanFlorida in Naples?
Sometimes, a little guidance is all it takes to become a cleaning pro. In our blog, you can find all sorts of tips and tricks to leave your house spotless. Read our latest posts!