House Cleaning Services in Bonita Springs, FL
Are you looking for reliable house cleaning services in Bonita Springs, FL? CleanFlorida will exceed your expectations. Keeping a clean home is no easy feat, especially if you have a busy lifestyle with a packed schedule. At CleanFlorida, we pride ourselves on offering top-quality house cleaning services delivered by detail-oriented professionals!
When you book with CleanFlorida, you can be sure your home is in the good hands of our background-screened and skilled staff. All our expert house cleaners use effective cleaning products, top-quality equipment, and the latest techniques to ensure your home is spotless and healthy. Your satisfaction is guaranteed because we are confident that our house cleaners are the best in Bonita Springs.
Whether you need us to clean your home thoroughly or maintain it clean, we've got you covered. We offer a range of cleaning packages, including regular house cleaning and deep cleaning. To make your life easier, we tailor our top-quality cleaning services to meet your specific needs. We can design with you a plan that fits your budget and relieves you from house cleaning. Get your quote today!
Discover Bonita Springs, FL
Bonita Springs is located in Lee County and was founded in the 1870s. What started as a small camp of government surveyors is now a town known for its beautiful beaches, recreational facilities, attractive homes, and fine dining restaurants.
If you need top-quality cleaning services in Naples, FL, you can find them at CleanFlorida! Our services go from top-to-bottom, general house cleaning, and ongoing maintenance, to vacation rental cleaning services. We offer fully customizable cleaning packages that both homeowners and vacation rental owners will enjoy.
Our most POPULAR first time cleaning service, that is our Top-to-Bottom Deluxe Cleaning, some people would call this a Spring Cleaning!
The other type of One-Time Cleaning is our Basic GENERAL CLEANING, and it is about half the price of our Top-to-Bottom Cleaning, but still a great service option!
With bi-weekly, weekly and monthly schedules you'll never feel overwhelmed again about your home's mess.
Spend Time Living in Bonita Springs, FL
Do you enjoy nature? Then you need to visit Everglades Wonder Gardens. You can walk around the beautiful botanical gardens and get a glimpse of the over 300 rescued, rehabilitated, and non-releasable birds and reptiles.
You can also check out Riverside Park, where you can find artist cottages, the butterfly garden, the historic Liles Hotel, the band shell, and—if you're lucky—you might even catch one of the many events hosted in this park.
If you're the type who likes to spend hours looking for treasures among trinkets and knickknacks, the Flamingo Island Flea Market is perfect for you. However, if you prefer a more energetic experience, you can go to the Bonita Fairways Golf Course to play or head to the Bonita Jet Ski and Parasail to rent a jet ski.
Bonita Springs, FL House Cleaning Done Right
As a family-owned and locally-operated company, our goal is to cover the needs of our community with quality house cleaning services. We always strive to provide you with a satisfying cleaning experience by treating your home as our own.
Our expert cleaners use top-quality equipment and the latest cleaning techniques to ensure only the best experience in all our services. We have the best house cleaners in Bonita Springs, FL! You can be sure every member of our cleaning staff is reliable, professional, and friendly. They'll go above and beyond to leave every nook and cranny spotless and your house healthy.
Let our trustworthy cleaning team give you back your free time! Our tailored house cleaning services are designed with the cleaning needs of homeowners like you in mind. We are sure we can meet your needs and budget, whether you are looking for recurring services, deep house cleaning, or professional cleaning services for your rental property. Get your quote today!
We're always proud to provide quality services! Our expert cleaners follow a thorough checklist that you can personalize, so we cover all the specifics of your home or workplace.
Who better to tell you about our services than our customers? See what they're saying about us.
Don't know what to expect? Check out some of our previous projects and see for yourself!
Sometimes, a little guidance is all it takes to become a cleaning pro. In our blog, you can find all sorts of tips and tricks to leave your house spotless. Read our latest posts!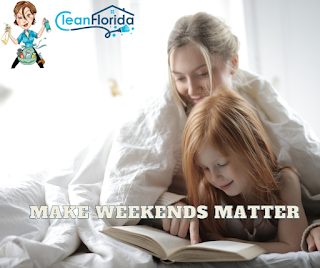 The weekend is here – it's your hard-earned break from the workweek, a time to unwind, recharge, and have some fun! But let's face it, […]
Hey there, fellow pet parents! We LOVE pet's here at CleanFlorida. We are official LOVE BOMBERS of Dogs and Cats and we often times have […]
Is your bedroom causing you as many allergies as the outside? With these six tips, this won't be a problem much longer! Here is how […]
Are You Ready for CleanFlorida in Naples?
Sometimes, a little guidance is all it takes to become a cleaning pro. In our blog, you can find all sorts of tips and tricks to leave your house spotless. Read our latest posts!