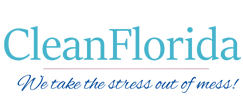 Hardwood floors are beautiful, but you'll need to be mindful of the care instructions.  If you've recently installed wood floors at your home or you're about to move into a home that already has them, this is a blog you'll want to read.
How to clean (and protect) your hardwood floors:
Stay away from steam cleaners
If you're wondering if you should invest in a steam cleaner, you should know that this isn't advised. Homeowners who make the mistake of cleaning their floors with this type of device often find that the wood will swell, and the finish will delaminate. Imagine what would happen to your floors if you had an unattended leak in your roof. The damage that rain water would do is similar to the damage that a steam cleaner will do.
Invest in floor protectors
If you haven't already purchased felt floor protectors, you'll want to invest in some. Felt protectors can be purchased at most big box retailers, hardware stores and online.  You'll want to place them on the bottoms of barstools, coffee tables, furniture legs, etc.
Get a plastic floormat for your desk chair
If you have a home office, you'll want to be sure to purchase a plastic floormat for your desk chair. This will also help prevent your floor from being damaged.
Just say "no" to certain cleaning products
When it comes to choosing cleaning products, there are a few you'll want to stay away from. Mop and Glo, Murphy's Oil Soap, Swiffer Wet Mop and Orange Glo are at the top of that list.  If you're thinking about reaching for vinegar, furniture polish or pine-scented cleaners, think again. All of these can (and will) damage the finish. You'll want to be sure to stick with cleaners that won't harm your flooring. Bona Hardwood Floor cleaner is a good choice, although there are other alternatives available as well. If you have questions about the types of cleaners that are compatible with your floor, it's best to consult with the flooring manufacturer.
Make sure pets' nails are trimmed
If you have cats and/or dogs, you'll want to make sure their nails are trimmed regularly. If their nails get too long, you'll likely find an unwanted trail of scratches throughout your home.
Have questions? Call Clean Florida today
If you have questions about how to properly clean your hardwood floors, we can help. Call Clean Florida today to learn more about green cleaning products that can help you get the job done right.