Helpful Tips: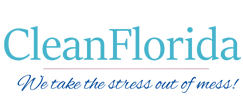 If you're thinking about hiring a housekeeping service in Naples, Florida, there are several things you'll want to keep in mind. First and foremost- not all cleaning services are created alike.
For this post, the experts at Clean Florida wanted to discuss some of the things you'll want to look out for along with some of the questions you'll want to ask candidates before you decide who to go with.
Are they licensed?
You likely understand the dangers of hiring an unlicensed contractor—and you should know that the dangers of hiring an unlicensed house cleaning service are just as real. When you hire a housekeeper, you'll be giving them full rein of your home, your bedroom and your personal space. You'll want to make sure you're not only hiring someone who can get the job done right—you'll want to make sure you're hiring a company that's trustworthy, experienced and carries proper insurance.
Do they have the experience you need?
If you're looking for a maid service, you'll want to hire a company that's experienced in performing the type of cleaning that you need. For example- a company that specializes in commercial cleaning and/or janitorial services may not be the best choice for a personal residence.  Do your homework in advance.
Ask about their billing
Some companies charge by the hour while others charge by the project. When you're in the process of fact-finding, try to get as much information as possible about what the service price includes, what it doesn't include and how their billing is handled. If you're interested in having them help you on a weekly, monthly or quarterly basis, ask if they offer multi-session discounts.
Ask if there are things they won't clean
This may sound strange, but not all cleaning companies are able to perform all jobs. If you need help with post-flood or post-fire cleaning, you'll want to make sure the company you're speaking with is equipped to handle that. It's also worth noting that some companies won't clean blood or fecal stains. If you have set, specific needs be sure to address them out of the gate.
Final thoughts
Hiring Naples cleaners can feel overwhelming, but it doesn't need to. When you work with Clean Florida, you'll have the peace of mind that comes with knowing that you've hired an experienced, licensed cleaning service that has years of experience in helping make local homes sparkle. For more information on our company or our rates, call today to learn more.